Our values align with the practice of whānaungatanga, which means a relationship through shared experiences and working together, providing young people with a sense of belonging.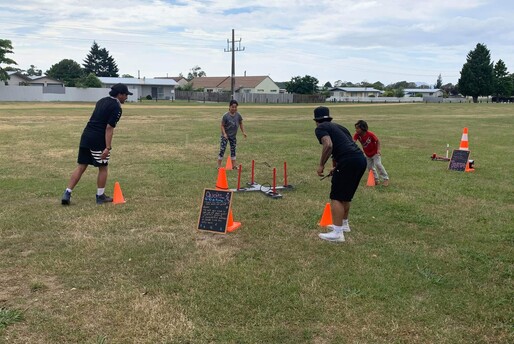 OUR VISION
Bringing hope and life to the young people of Hawke's Bay
OUR VALUES
Respect - valuing each other and accepting our differences
Creativity - unlocking imagination and bringing to life one's own masterpiece
Empowerment - uplifting each other and our community
Transparency - we are open, honest and we value integrity
OUR MISSION
REZPECT is the 'go-to' place for our community to:
Participate in high quality creative programmes
Find high quality youth events
Find a place of belonging for our young people
Gain training and experience for our young people to move into future education and employment
Olivia Morrell
Director / Executive Producer of Rezpect - Hastings, on the Board of Trustees of the National Street Dance NZ, and Hawke's Bay Regional Manager for Hip Hop International NZ.
Olivia was born and raised in Mangere, South Auckland. Her passion for the performing arts and empowering young people began in her teenage years, after her involvement with a local Performing Arts Holiday Programme. While still a teenager, Olivia used her learnings to equip and empower many young people throughout Aotearoa during her time with the 'Impact World Tour', an International Performing Arts Tour, and with the 'Hydraulics' Dance Crew. During this time, Olivia used her experience to reach out to communities of young people in Singapore, China, India and South Korea. These tours included producing local youth events, performing and teaching both dance and music workshops. They enabled Olivia to provide a platform for young people to showcase their creative gifts and talents. Coming home after travelling, Olivia continued to pursue her passion to equip and empower young people in the creative arts. This lead Olivia to Hastings where she embarked on an amazing 6 year journey, at 'Atomic Events Centre', where she achieved her Diploma in Youth Development, and founded Rezpect Dance Academy.
Russell Morrell
Director for Rezpect - Hastings, lead youth mentor for Rezpect - Hastings and dance tutor at Tamatea High School.
Russell, born and bred in Flaxmere, attended Irongate School, Flaxmere and played for the first XV Rugby team at Flaxmere College. His love for dance was birthed at a young age and became his safe space and an outlet of self expression. The creative environment that dance made for Russell enabled him to grow as a person in his self leadership and leadership of others. As he developed his unique dance 'style', his confidence and sense of purpose evolved as he pursued his passion of dance to where he wanted to share his experience and knowledge with other young people. As Russell's journey continued, his heart for young people grew as he served his community. He produced after school programmes, provided leadership and a platform for young people at youth events at his local church and at the local 'Atomic Events Centre'. In 2019 Russell stepped into his dream of serving the young people of Hawke's Bay full time; such a magic 'moment'. It was a big step to move from his job of 10 years, a job that had financially supported the birth of Rezpect Dance Academy.
Rezpect was founded by Olivia and Russell Morrell in Hastings, New Zealand in 2010. Our journey began as Rezpect Dance Academy at the 'Atomic Events Centre' with the vision of inspiring & encouraging young people through dance.
In 2016, we were approached by Zeal, a National Youth Organisation, to partner with them in order to maximise the impact we could have in our community.
With the strong and focused leadership of our Director, Olivia Morrell, who was appointed the Zeal Hawke's Bay Regional Manager, Rezpect Dance Academy was able to cultivate our work, youth development & mentorship into what it is today.
In our next season, 2020 brings an exciting journey of new beginnings to our story. With the dedicated leadership of Olivia and Russell Morrell & their wealth of knowledge in the youth sector, 'Rezpect Dance Academy' evolved organically and seamlessly to become 'Rezpect' Community Youth Space.
Rezpect is a community based organisation that produces and runs:
High quality creative programmes
High quality youth events
Engaging & educational afterschool and school holiday youth programmes
Training and experience for our young people to move into future education and employment
"Rezpect is about improving the mental health and well-being of the youth in our community.
We will work to collaborate and partnership with other youth providers in our community to support our young people"
Rezpect will improve the mental health and well-being of the youth in our community by:
Providing a safe 'youth space' for local young people to come to find belonging and to be accepted
Providing platforms for young people to express themselves through their passion and creativity
Giving young people a Voice
Challenging young people to give back to their communities by being involved in the producing of our Rezpect Youth Events and 'Pop-Up Youth Activations'
Providing an Internship Programme to enable professional development to gain transferable skills for future education and employment
Employment opportunities
Rezpect will collaborate with other youth providers by:
Supporting their events where possible
Inviting them to collaborate in the delivery of our events
Providing information about their available services
Rezpect will build and support the community by:
Providing Rezpect Dance Academy, the longstanding creative and leadership programme
Producing impacting youth events
Creating impacting afterschool youth programmes at our space
Creating school holiday 'Pop-Up Youth Activations' in various locations throughout Hawke's Bay